API2Cart API Methods for E-commerce Chatbots
Online retailers are always enthusiastic about implementing new technologies that may win them new sales. Chatbots hit the market quite recently, but have already promoted themselves as one of the best customer support option.
It is not surprising, that сhatbot ecommerce market is expected to grow of over 37% through 2021. The reasons are that chatbots can guide users all the way through the buying process and are convenient for use for customers. Here are some key points which indicate why chatbots are gaining popularity in e-commerce:
provide 24/7 high-quality customer support

offer customers product recommendations

prevent shopping cart abandonment

ensure customer engagement

reduce the amount of money spent on staff
To be able to work on online stores chatbots need to integrate with shopping carts and marketplaces, since each ecommerce shop is built on a certain platform. The more shopping platforms the chatbot app integrates with, the more potential clients it will get.
However, shopping carts integration is not simple as it may seem and involves tons of tech work to do and a lot of money to lay out. A better solution is to use unified API by API2Cart and avoid the necessity to make separate connections. With API2Cart chatbots have an ability to integrate with more than 35+ shopping carts and marketplaces.
The scheme below helps to understand how API2Cart works with chatbots and shopping carts.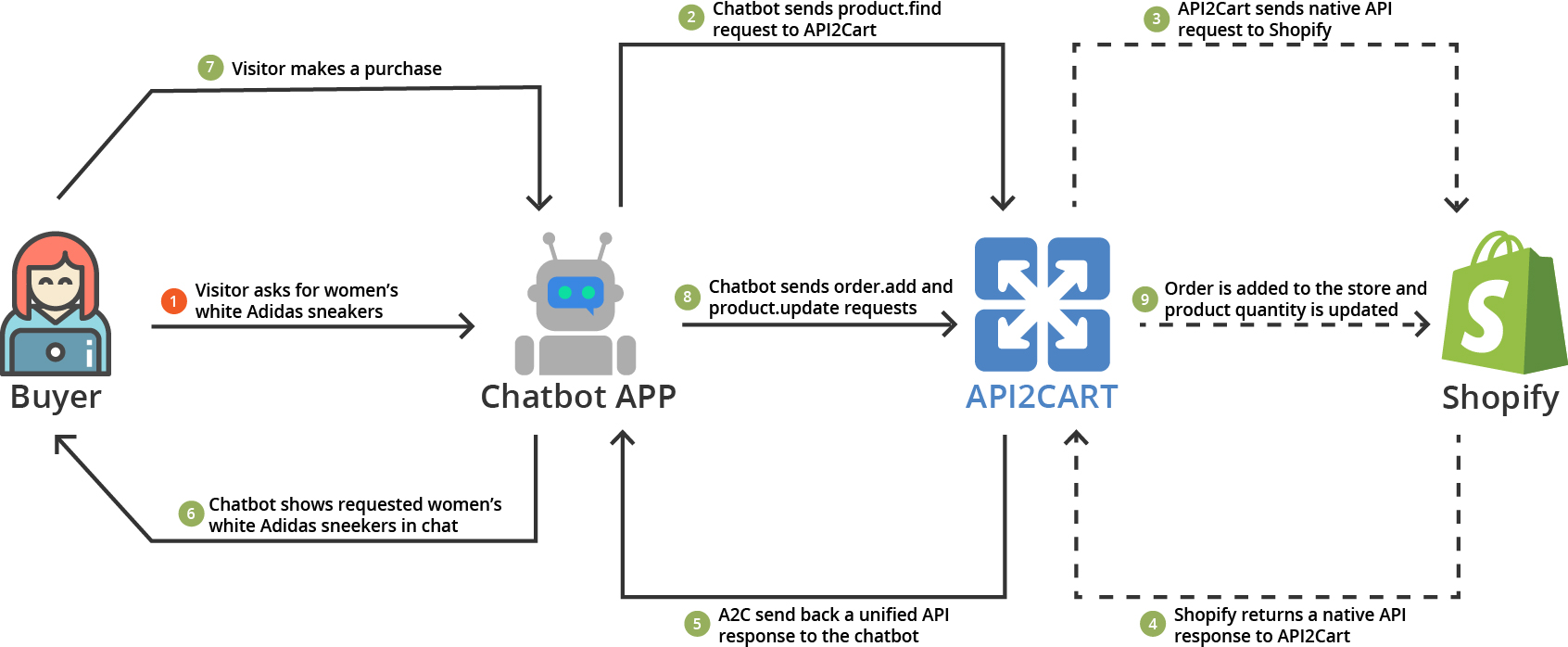 Let's dig deeper into the methods which help to perform the integration. For working with categories API2Cart provides methods category.info/count/find/list. Using them it is possible to manage the categories in the store.
To give visitors product suggestions and provide product info in chat, chatbots can use product.list method.
For finding the particular product there is a product.find method.
Chatbot can create orders on the store from chat using order.add and order.update methods.
API2Cart also has a solution for cart recovery. Chatbot can get the list of abandoned orders via order.abandoned.list method and remind cart abandoners about items they were going to buy.
In case you are planning to integrate your chatbot with shopping cart and marketplaces, schedule a call with our representative to discuss the details of how API2Cart can help you in implementing this.