Dropshipping Automation: Understanding Key Dropshipping Workflows
Automation seems to be a buzzword these days in just about any industry. With the rise of robotics, artificial intelligence (AI) and increasingly "smarter" systems, automation has found its way into just about every area of business. However, dropship automation was around long before this trend spread to other industries as it is so essential to building and managing a dropship ecommerce business.
What exactly Dropshipping Automation is?
Dropship Automation is essentially automating the syncing of inventory and order data between your dropship suppliers' systems and your ecommerce store or platform. If you are not automating your dropship business, you are likely updating inventory stock levels and uploading new products manually, copying and pasting order details, and tediously entering order status updates and tracking numbers.
Dropship ecommerce businesses who need to track inventory levels and receive dozens, hundreds, or even thousands of orders per day need to have some type of automation in place in order to scale and compete in online retail. Whether it is through writing their own automation scripts or using dropship software, having automation in place is the most efficient and cost effective way to manage a dropship business.
Let's take a closer look at the types of workflows that the majority of dropship businesses face and seek to automate.
Types of Dropship Workflows
Inventory Syncing
The most common business workflow in all ecommerce businesses is the updating of inventory stock levels. Keeping the inventory quantities up-to-date on your online store is essential to providing a good experience, and in dropship, this becomes much more difficult than traditional retail. With dropshipping, you do not store the products in your own warehouse or facility; you have to rely on your supplier partner for accurate inventory quantity data.
You also are competing with other resellers for the supplier's products who can purchase these same items you have listed on your store and could deplete the stock before you even sell a single item. This is why many dropship suppliers provide a dropship feed that provides their inventory stock quantities and allows their resellers to view and ideally update their stores appropriately as the products go out of stock and come back in stock.
Product Data Uploads
A less common yet extremely beneficial ecommerce workflow to automate is the uploading of new products. It is less common because it is much more difficult than simply updating a quantity field on a store. With new products you are uploading images, titles, descriptions, categories, and more to a certain field on an ecommerce store or platform. Each one of these fields can have certain requirements and formatting needs depending on the platform. If you are working with dropship distributors with large product catalogs, you need to have the new product upload process automated to have truly automated dropshipping for your ecommerce business.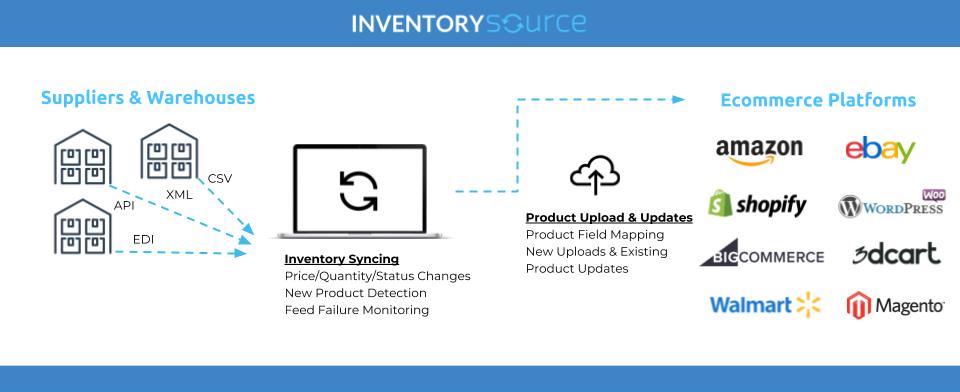 Order Routing
Inventory & product data syncing is key to populating your store with products and keeping it up to date, however the ordering process is just as important to ensure a good customer experience. When an order is placed on your ecommerce store, you will need to transfer the order information to your dropship supplier so they can properly fulfill the order to your customer.
Common order details sent to your supplier...
A Purchase Order number

Your dealer/reseller account number

Payment terms

Customer name

Customer shipping address

Item details (SKU numbers, product titles, quantity, etc.)
Without order automation, you typically would need to manually input this information into your supplier's website or send your supplier an email with the order details.
Depending on how your supplier accepts orders, you can use Dropship Automation Software to automatically send the order details via a file over FTP/EDI/email, or through an API.
Shipment Status & Tracking Updates
The best dropshipping websites practice fully automated dropshipping by not only syncing inventory and routing orders, but also automatically updating shipment statuses and tracking updates to bring their store workflows full circle.
Once an order has been sent to your dropship supplier, you will want a few pieces of information back from this supplier in order to ensure your customer receives the shipment as they expect.
Mainly you'll want your supplier to provide...
Acknowledgement the order has been accepted and will be processed

A status update that the order has been shipped

The tracking number and ideally shipping carrier & method once shipped
Your supplier will typically provide these via a file over FTP/EDI/email or through an API. When using Dropship Automation software, you can integrate with one of these methods to automatically pull the shipment status and tracking information into your ecommerce store to seamlessly notify your customer.
Conclusion
Running a dropship business without automation is certainly possible, however it can pose difficult for retailers selling larger catalogs or have significant order volume. Those that choose not to use dropship software can surely use manpower to keep their dropship inventory updated and orders flowing, although in many cases will be less cost effective and efficient than software.
If keeping quantities in sync, new products uploaded, and orders/shipments updated are critical to your customer's experience, you'll want the proper software to help manage, scale, and grow your business.
About the Author:
Travis Mariea is the Managing Director at InventorySource.com, the dropship automation software that connects your dropship supplier/warehouse inventory and orders with your eCommerce Website and Marketplace Accounts.